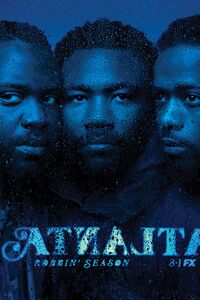 Robbin' Season
is the second season of
Atlanta
, preceded by
season one
, and it consists of 11 episodes.
[1]
The second season was announced on September 20, 2016, after the successful launch of the
pilot episode
.
[1]
Due to
Donald Glover
's production schedule, the season was delayed until 2018.
[2]
Production on the season commenced in the fall of 2017,[3] and premiered on March 1, 2018. It was nominated for a total of 16 Emmy's in 2018.
Production crew
Edit
Producers Edit
Donald Glover – Creator/Executive producer/Writer/Director/Executive music producer
Directors Edit
Episodes
Edit
#
Image
Title
Airdate
Viewers
11
"Alligator Man"
March 1, 2018
0.85
Ayyy! We back in the city but thangs feel a little different. Must be Robbin' Season. Free Paper Boi!
12
"Sportin' Waves"
March 8, 2018
0.71
Trappin ain't easy, ya dig? Shout out to all my credit card scammers in the club tonight.
13
"Money Bag Shawty"
March 15, 2018
0.56
Earn is out here making that money. Too bad he still look broke as hell. This whole city runs on stunting, you feel me?
14
"Helen"
March 22, 2018
0.50
When you go outside the city white people be acting different. That's why I can't even go to Marietta. Too weird.
15
"Barbershop"
March 29, 2018
0.61
You know how you need a fresh cut but your barber is always on some wack stuff? He's lucky I only trust him.
16
"Teddy Perkins"
April 5, 2018
0.78
Darius is trippin in this one. Y'all know I woulda been left.
17
"Champagne Papi"
April 12, 2018
TBD
Yeah girl, we gonna party tonight! But if you don't post about it, did it really happen?
18
"Woods"
April 19, 2018
TBD
Why Paper Boi always got an attitude? He rich, right? That's why I can't feel bad for these celebrities.
19
"North of the Border"
April 26, 2018
TBD
We might have to make that move tonight. I heard there's a pajama party and Paper Boi is gonna be there.
20
"FUBU"
May 3, 2018
TBD
Y'all youngins don't know nothing about this. This one takes me back to middle school. Shout out Miller Grove!
21
"Crabs in a Barrel"
May 10, 2018
TBD
Sometimes you gotta go where the money goes. But it be feeling like something is holding me back. Like I can't leave.
References
Edit